It's hard to overstate just how popular vlogging is in Australia.
According to a study in Adnews, Australia has 15 million unique YouTube subscribers, that's nearly 60% of the entire population. And although many switch on to watch the myriad of tutorials on literally any subject you can think of, there is no denying the rise of the Influencer creating unique content across the social media platforms.
Part of the reason for this popularity is due to just how easy it is for literally anyone to pick up their phone or camera and start creating content. 
However, the popularity of vlogging also makes it competitive. Viewers today expect high production standards, even from people who are doing all the recording and video editing themselves. 
If you'd like your posts to stand out and to really grow your audience, it may be time to invest in some new equipment.
We have put together some helpful tips to consider, alongside our most popular products for vloggers.
---
Vlogging Kits: The all-in-one solution
We'll get into all of the best vlogging cameras and accessories in a moment, but if you're looking for an easy all in one solution, you may want to consider our Shape VIPHO Vlogging Kit for smartphones or if you use a tablet instead of a smartphone, we also have a Vlogging Kit for tablets. These packages turn your existing devices into professional vlogging setups.
The kits include:
A clamp designed specifically for smartphones or tablets
A lightweight desktop tripod
A mounted mini-LED light
A high-quality mounted microphone
We highly recommend this kit as a quick and easy solution that gets you up and influencing with a minimum of fuss.
Choosing the best vlogging camera
While a smartphone may work well to begin with, as your audience grows, you'll want to invest in a higher-quality camera to help your content really stand out.
When selecting a camera for vlogging, it's understandable to feel overwhelmed by the range of choices as there are a few things you want to consider.
You may have been told that the video resolution is important but in truth, it's not an issue for camera selection. Higher resolution doesn't equate to a higher quality video. Of course, lower resolution can mean poor quality footage but these days, all cameras have that covered. What you need to focus on is how the camera is set up.
The weight/size of the camera
The storage options for the camera
The lens options for the camera
For quality, portability, and ease of use, we recommend the mirrorless-style Panasonic Lumix GH6, or for studio work, the box-style Panasonic Lumix BGH1.
For a more advanced cinematic feature set, check out the Blackmagic Pocket Cinema Camera 4K or the Blackmagic Studio Camera 4K Plus.
For excellent optical quality and a wide zoom range, you can team up any of these bodies with the Leica DG Vario-Elmarit 12-60mm lens to truly show yourself at your very best.
Another aspect of your masterpiece to focus on is of course, audio via the microphone quality, be it built in or external.
How to find the best vlogging microphones
Audio quality is just as important as visual quality.
Many vlogging cameras already feature a high-quality built-in microphone, however these mics also pick up a lot of background noise due to their wide reception pattern.
A camera-mounted shotgun microphone like the Sennheiser MKE-600 has a directional reception pattern that will focus on the speaker while eliminating much of this background noise.
The best quality audio is recorded when the microphone is placed as close to the speaker as possible. This is why lavalier (lapel) microphones like the Sennheiser ME2 often provide the clearest noise free audio. If you are filming on our own, this option also frees your hands. This is important to remember when juggling equipment out and about.
For a wireless option, a simple solution is the Wireless Go II from RODE. This compact transmitter and receiver set with built-in microphone offers a dual channel receiver and two transmitters, allowing you to record two (2) sound sources at once.
For other options, check out our full list of professional-grade microphones. If you are unsure what solution will best suit your needs, you can call our audio experts during office hours on 1800 717 710.
Getting the lighting right
Lighting is an essential element of shooting video.
If you're shooting outdoors in natural light, you will generally benefit from using light modifiers like those that make up the Manfrotto Skylite kit. This kit provides a diffusion scrim (another word for a lighting modifier) to soften harsh light, a reflector to bounce overhead sunlight back in, to light up a subject's face, and a solid black to cut it altogether.
Indoors, common domestic lighting can be far from ideal. It often looks flat and lacklustre. Investing in one or more LED fixtures such as the Fomex FLB25 kit will make a huge difference. Products like these allow you to shape your light as you wish and create the individual look that you want in your video content. They also tend to be small and lightweight which is a plus when transporting equipment.
Keep your vlogging camera steady with these accessories
The Joby Gorillapod 5K Rig is a popular option that provides support and stability for your camera whether you are handholding, setting it on a bench or wrapping it around a tree branch. The addition of a smartphone clamp like the KUPO Universal Smartphone Clamp will also allow you to use it with your phone.
Camera users looking for stability on the go will love the Manfrotto Gimboom. When coupled with the Manfrotto MVG220 Gimbal, this innovative accessory places the camera on a stabilising gimbal at the end of a fast deployment carbon fibre boom making it the ultimate in selfie sticks! And to top it all off, you can easily direct via the Manfrotto Gimbal app.
Like all categories we have discussed in this blog, understanding which accessories are right for your kit can feel daunting when you are starting out. Send our team an email or call 1800 717 710. for help. It's the best way to get your views and clicks started.
What's behind you. Working with studio backgrounds
If you're recording your video indoors, in addition to correcting the lighting as discussed above, you may want to consider using a studio-style background. Background paper rolls are available in a variety of colours and come in 2.72m and 1.35m widths.
A background support stand set like the KUPO 223K will support your paper rolls or a range of different textiles and fabrics.
You may even want to try your hand at keying in a photographic or video background using a chromakey background like the Manfrotto Studiolink Chromakey Green Screen Kit. With just a few clicks, most video editing programmes will allow you to drop in a graphic background like a business logo; or place yourself in a forest, a city or wherever you would rather be.
Using a studio background will keep your content looking consistent and repeatable. It will help to set the mood and the look. If you are thinking of doing a piece to camera, this is a good option to consider.
Recording and live streaming your vlogs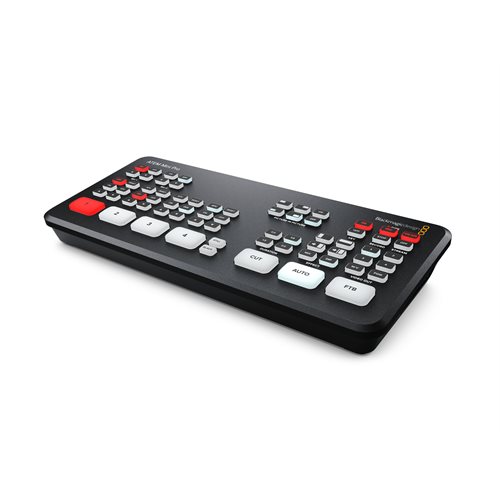 Having the best vlogging camera, lighting support rig and audio setup will help you capture quality footage. But reviewing that footage, and editing it or live streaming it, is also a necessary part of the vlogging job.
That's why many professional vloggers invest in a monitor for their camera, like the Atomos Ninja V. Having one of these touchscreen displays mounted to your camera will make it much easier to assess the quality of video you are capturing in real time.
If you're one of the many vloggers who live-streams using multiple cameras or need to add graphics on the fly, then a vision switcher like the Blackmagic ATEM Mini Pro will allow you to mix and record multiple video and audio sources and stream live to the web with simplicity just like connecting a webcam.
That's a wrap
This is only a sampling of the many products we have available at John Barry Sales that can enhance your videos and enable your creativity.
As you continue to grow and produce high-quality video content, remember that we are part of the Hollywood based Panavision group, and are here to help you on your journey.
Break a leg.