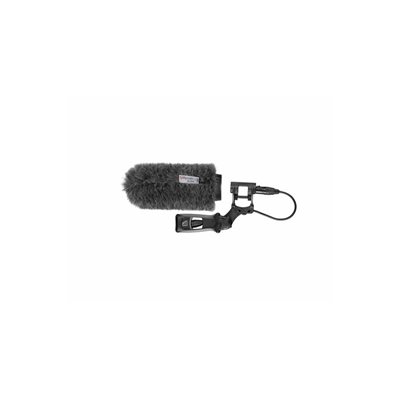 Press and move to zoom
Mouse over image to zoom
RYCOTE 18CM CLASSIC-SOFTIE KIT (19 / 22)
Product code : RYC.033352
UPC code :5060223651606
RYCOTE 18CM CLASSIC-SOFTIE KIT (19/22)
Slip-on fur and open-cell foam windshield kit suitable for shotgun microphones, with slots no further than 18cm from the front of the mic and a diameter of 19-22mm.

The Softie Windshield Kit includes a Sofite Windshield, Lyre shock-mount and Pistol-grip. Together this system provides a quick, simple, robust and cost effective windshield and shock-mount for the tough environment of modern day ENG and location recording.Softie WindshieldThe Softie is a slip-on open-cell foam windshield with integral fur cover. The Softie will reduce wind-noise up to 40 dB and is the standard world wide in the broadcast industry. Softie windshields are available in a large range of sizes to fit most popular shotgun microphones.Both the acoustic foam and synthetic fur are made from materials which are specially designed and manufactured for the purpose, and as a result offers very good wind-noise reduction without any adverse effect on High-Frequency. In addition the foam is not susceptible to UV or moisture damage, giving this product great longevity.Advanced materials, adhesives and assembly techniques all combine to make the Softie an extremely tough product that provides excellent wind protection in the harshest of environments.Softie Lyre MountThis universal shock-mount, complete with Pistol-grip, uses the patented Lyre system to provide complete isolation against handling and cable-borne noises. The Softie Lyre Mount has a soft-feel grip moulded into the clip which securely holds the microphone, preventing any slipping or twisting. The Lyres are extremely robust, and virtually unbreakable, as they do not use elastic or rubber components that are prone to wear and tear.The Softie Lyre Mount is supplied with a lightweight Pistol Grip handle. The Pistol Grip has an added element of versatility as they have a 3/8" thread fitting for use with a boom pole. For customers who require an on-camera mount, by either hot shoe or ¼" thread, please see our InVision Video range which uses an identical Lyre mount.The Softie Kit also comes with a 40cm Softie Cable: 3-pin XLR Gold plated, Mogami, Ultra Soft 5.0 mm cable.
Cost effective windshielding which is tough enough to endure ENG and location recording
Simple to use standard in world wide in TV
High quality windshielding and shockmounting for an affordable price
The Softie Windshield is a slip-on open-cell foam, with integral fur cover. The Softie will reduce wind-noise, protect your mic and is the standard world wide in TV.
To fit microphone diameter: 19-22mm
Windshield internal Length: 180mm
Total Windshield Length: 205 mm
Rubber diameter: 70mm
Overall diameter: 120mm
Fur length: 25mm
Fur Colour: Grey
Max Wind-noise Attenuation: 25 dB Finding the correct slip-on windshield will depend on the type, length and diameter of the microphone. Slip-on windshields are designed for cylindrical shotgun mics, ranging from 19-25 mm in diameter. For any windshield to work effectively it must cover all the ports on the microphone. Therefore a 12 cm slip-on windshield would be suitable for shotgun microphones, with slots no further than 12 cm from the front of the mic. The diameter of the microphone is also key, as the fit must be tight in order to achieve a good seal. Rycote slip-on windshields come in three diameter fittings, Universal (19-25 mm), Standard (19-22 mm) or Large (24-25 mm).
If this product is listed as "in stock" you can rest assured that orders placed before 2pm EST will be dispatched same day, if ordered online.
If your product is on backorder, please contact us for an ETA.
Shipping is done via Startrack Express or Australia Post eParcel service and tracking advice will be provided once shipped. For more information, please visit our
Shipping Policy
.
John Barry Sales extends the warranty conditions as scheduled by the product manufacturer. The Warranty period starts from the date of invoice, and shall be effective until warranty period expires. Where not stated, John Barry Sales will provide 1-year (12 months) warranty for other equipment items, with exception of the following goods and services: Cables (custom made & stock) - 3 months. Audio & Video media - 3 months. Consumable items - 3 months. Should you have any questions regarding our equipment warranty conditions, please contact us.
John Barry will happily exchange a product sold to you that does not match the description on our website, or if the product is not of an acceptable quality or condition for use.
John Barry reserves the right under Australian Consumer Law to refuse a request for an exchange or refund on all final sale items, if you have misused/mishandled the product, or if you have simply changed your mind. Please visit our Refunds & Returns policy page for further information.