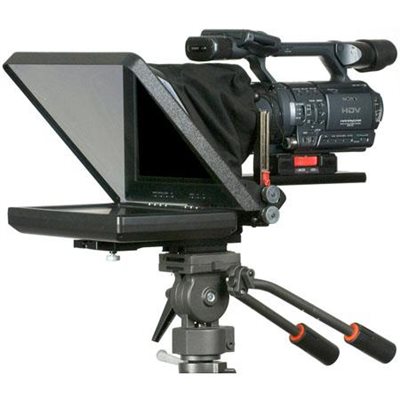 PROMPTER PEOPLE PROLINE 11 TELEPROMPTER
Product code : PRP.PRO-11
PROMPTER PEOPLE PROLINE 11 TELEPROMPTER
The Prompter People ProLine 11 offers innovative, patent pending features unavailable on any other teleprompter. Its completely tool-less design offers quick setup and breakdown with any size camera. The patent pending mirror assembly offers both height and angle adjustment for perfect camera centering and presenter viewing angle. The mirror assembly also folds flat for fast, safe transport. The use of custom aluminum extrusions (instead of heavy slab aluminum) combined with the ultra light LCD panels make the ProLine 11 the lightest prompters in their class. The lightweight design eliminates the need for costly, heavy-duty tripods and offers significantly improved panning and tilt performance. Today's high definition cameras demand equally high performance optics. It utilizes exclusive UltraClear HD beamsplitter glass that uses ultra pure, low iron glass that eliminates the color shift and light loss found in many competitive products. To further improve performance added is an anti-reflection coating on the back of the glass to virtually eliminate reflections that can bounce back into the lens. The ProLine 11 standard LCD panels is the lightest weight, lowest profile designs in the class. In addition, it offers both VGA and composite video inputs adaptable with any computer output or application. It also offers flexible power options including 100-240V AC or external 12V DC input for use in the field without AC. (Does not include Tripod, Camera or Light ring)
10.4" reversing LCD display
Fits all cameras from MiniDV/HD cameras to ENG
Readable to 12 feet
Flip-Q Pro software for Mac and PC included on USB stick
PowerPoint prompting software
VGA and composite inputs
Run on 100-240V AC or 12v DC
Adjustable mirror height/angle adjustment
Perfect balance with any size camera
Premium HD 60/40 Ultra Clear
Rear anti reflection coating reduces
Folds flat for safe, compact transport
Completely tool-less setup
Change to larger/smaller size LCD/Mirror
Lightweight -use with tripod or handheld
Lightweight aluminum extrusion frames
Easy top side camera adjustment
Monitor Size
Choosing a PrompterSelect the monitor size based on the maximum distance away that someone with good eyesight will need to read the Teleprompter.


Monitor Type
Our standard monitors for all ProLine series offer VGA & Composite inputs. Other options are:

• Reversing Monitor - Required for some 3rd party software (not required for Flip-Q).
• High Brightness Monitor - For Outdoor use, not recommended for indoor use.


BeamSplitter Style (the Mirror): Rectangular or Trapezoidal

• Our Standard BeamSplitter is rectangular as most users do not have multiple talent on one teleprompter, thus a cost saving can be achieved in the beamsplitter shape. Rectangular costs less, but is less suited for multiple talent.
• Proline Studio - Our Trapezoidal Beamsplitter costs a little more, however this is more suitable for multiple talent reading the script due to an improved off-axis viewing angle.


BeamSplitter Material (the Mirror)
Each teleprompter comes with high quality glass, however some users prefer optical grade acrylic which is available as an option. In our experience most users opt for glass except educational market users.

• Glass doesn't scratch easily, but does break easier.
• Optical grade Acrylic doesn't break easily, but does scratch easier.
If this product is listed as "in stock" you can rest assured that orders placed before 2pm EST will be dispatched same day, if ordered online.
If your product is on backorder, please contact us for an ETA.
Shipping is done via Startrack Express or Australia Post eParcel service and tracking advice will be provided once shipped. For more information, please visit our
Shipping Policy
.
John Barry Sales extends the warranty conditions as scheduled by the product manufacturer. The Warranty period starts from the date of invoice, and shall be effective until warranty period expires. Where not stated, John Barry Sales will provide 1-year (12 months) warranty for other equipment items, with exception of the following goods and services: Cables (custom made & stock) - 3 months. Audio & Video media - 3 months. Consumable items - 3 months. Should you have any questions regarding our equipment warranty conditions, please contact us.
"John Barry will happily exchange a product sold to you that does not match the description on our website, or if the product is not of an acceptable quality or condition for use.
John Barry reserves the right under Australian Consumer Law to refuse a request for an exchange or refund on all final sale items, if you have misused/mishandled the product, or if you have simply changed your mind. Please visit our Refunds & Returns policy page for further information.
"