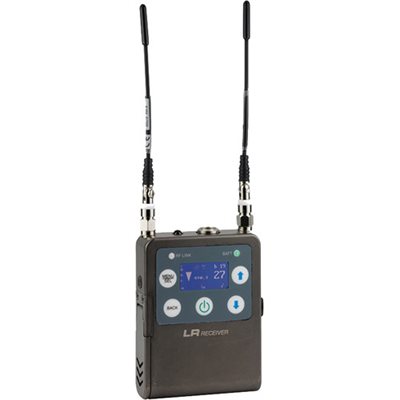 LECTROSONICS LR / C1 COMPACT RX (614.400-691.175 MHZ)
Product code : LEC.LR/C1
Lectrosonics Lr/C1 Compact Rx (614.400-691.175 Mhz)

Excellent performance in a small package for ENG and DSLR video production is the purpose and intent of the LR receiver design. Tracking front-end filters block interference from high powered RF signals on nearby channels to preserve the extended operating range. RF spectrum scanning displays accurate results on the LCD to make finding clear spectrum quick and easy. The receiver is powered by internal AA batteries or with an optional battery eliminator. The top panel includes an IR port for transmitter setup. Firmware updates are enabled via a USB port on the side panel. The housing is made from a solid machined aluminum billet. Digital Hybrid Wireless: is a patented design that combines 24-bit digital audio with an analog FM radio link to provide outstanding audio quality and the extended operating range of the finest analog wireless systems. The design overcomes channel noise in a dramatically different way, digitally encoding the audio in the transmitter and decoding it in the receiver, yet still sending the encoded information via an analog FM wireless link. This proprietary algorithm is not a digital implementation of an analog compandor. Instead, it is a technique which can be accomplished only in the digital domain, even though the audio inputs and outputs are analog signals. Main Features: • Tunes over a 75 MHz range* • Tracking front-end filters • Digital Hybrid Wireless® with compatibility modes for use with earlier transmitters • Compact size powered by two AA batteries or an optional battery eliminator • LCD with RF spectrum scanning • SmartSquelchTM noiseless muting adapts automatically for near/far operation • DSP-based pilot tone for squelch control • USB port for firmware updates • IR sync port for transmitter setup

If this product is listed as "in stock" you can rest assured that orders placed before 2pm EST will be dispatched same day, if ordered online.

If your product is on backorder, please contact us for an ETA.

Shipping is done via Startrack Express or Australia Post eParcel service and tracking advice will be provided once shipped. For more information, please visit our

Shipping Policy

.

The equipment is warranted for one year from date of purchase against defects in materials or workmanship provided it was purchased from an authorized dealer. This warranty does not cover equipment which has been abused or damaged by careless handling or shipping. This warranty does not apply to used or demonstrator equipment. Should any defect develop, Lectrosonics, Inc. will, at our option, repair or replace any defective parts without charge for either parts or labor. If Lectrosonics, Inc. cannot correct the defect in your equipment, it will be replaced at no charge with a similar new item. Lectrosonics, Inc. will pay for the cost of returning your equipment to you. This warranty applies only to items returned to Lectrosonics, Inc. or an authorized dealer, shipping costs prepaid, within one year from the date of purchase. This Limited Warranty is governed by the laws of the State of New Mexico. It states the entire liablility of Lectrosonics Inc. and the entire remedy of the purchaser for any breach of warranty as outlined above. NEITHER LECTROSONICS, INC. NOR ANYONE INVOLVED IN THE PRODUCTION OR DELIVERY OF THE EQUIPMENT SHALL BE LIABLE FOR ANY INDIRECT, SPECIAL, PUNITIVE, CONSEQUENTIAL, OR INCIDENTAL DAMAGES ARISING OUT OF THE USE OR INABILITY TO USE THIS EQUIPMENT EVEN IF LECTROSONICS, INC. HAS BEEN ADVISED OF THE POSSIBILITY OF SUCH DAMAGES. IN NO EVENT SHALL THE LIABILITY OF LECTROSONICS, INC. EXCEED THE PURCHASE PRICE OF ANY DEFECTIVE EQUIPMENT. This warranty gives you specific legal rights. You may have additional legal rights which vary from state to state.

John Barry will happily exchange a product sold to you that does not match the description on our website, or if the product is not of an acceptable quality or condition for use.

John Barry reserves the right under Australian Consumer Law to refuse a request for an exchange or refund on all final sale items, if you have misused/mishandled the product, or if you have simply changed your mind. Please visit our Refunds & Returns policy page for further information.