Home

>

FREEFLY SYSTEMS MOVI M10 REPAIR / EMERGENCY KIT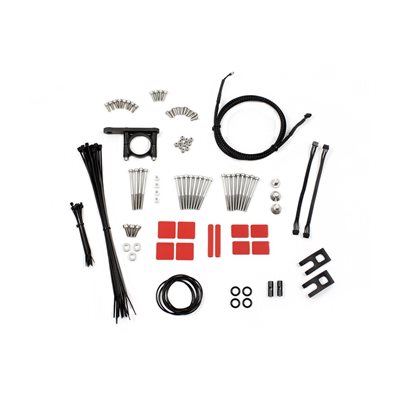 FREEFLY SYSTEMS MOVI M10 REPAIR / EMERGENCY KIT
Product code : FRE.910-00007
Freefly MoVI M10 Repair / Emergency Kit

This kit is designed to provide an assortment of items that are useful in repairing / maintaining your MoVI in the field. It includes an assortment of hardware, fasteners, and wiring to allow for light field repair and maintenance.

Includes:
Qty 15 - 200mm Zip-tie
Qty 15 - 70mm Zip-tie (thin)
Qty 1 - Puck Wire
Qty 2 - Assembly 4 Pin ZH Flipped 100mm
Qty 1 - Bolt ¼-20 x ½" FHCS
Qty 1 - Bolt ¼-20 x ?" FHCS
Qty 1 - Bolt ¼-20 x ?" BHCS
Qty 4 - ¼ Aluminum Spacers
Qty 1 - Accessory Mount
Qty 8 - Large O-rings
Qty 4 - Small O-rings
Qty 2 - Plastic Toggle Lever
Qty 2 - Aluminum Lever hinge
Qty 10 - Double Stick Mounting Tape
Qty 4 - M3x45 Socket Head Screws
Qty 8 - M3x40 Socket Head Screws
Qty 8 - M3x37 Socket Head Screws
Qty 4 - M3x10 Socket Head Screws
Qty 8 - M3x8 Socket Head Screws
Qty 4 - 4x10 Socket Head Screws
Qty 10 - M3x8 Button Head Screws
Qty 3 - M4x10 Button Head Screws
Qty 3 - M4 Washer
Qty 10 - Press Nuts


Accessories visible on product image are not included

If this product is listed as "in stock" you can rest assured that orders placed before 2pm EST will be dispatched same day, if ordered online.

If your product is on backorder, please contact us for an ETA.

Shipping is done via Startrack Express or Australia Post eParcel service and tracking advice will be provided once shipped. For more information, please visit our

Shipping Policy

.

John Barry Sales extends the warranty conditions as scheduled by the product manufacturer. The Warranty period starts from the date of invoice, and shall be effective until warranty period expires. Where not stated, John Barry Sales will provide 1-year (12 months) warranty for other equipment items, with exception of the following goods and services: Cables (custom made & stock) - 3 months. Audio & Video media - 3 months. Consumable items - 3 months. Should you have any questions regarding our equipment warranty conditions, please contact us.

John Barry will happily exchange a product sold to you that does not match the description on our website, or if the product is not of an acceptable quality or condition for use.

John Barry reserves the right under Australian Consumer Law to refuse a request for an exchange or refund on all final sale items, if you have misused/mishandled the product, or if you have simply changed your mind. Please visit our Refunds & Returns policy page for further information.