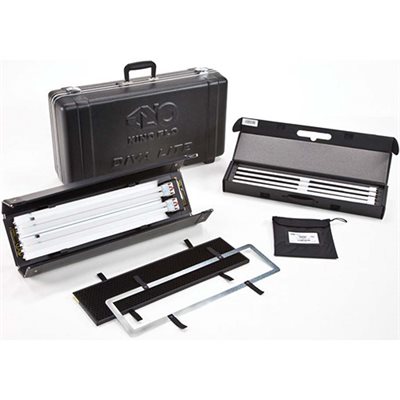 Press and move to zoom
Mouse over image to zoom
KINO FLO DIVA-LITE 201 KIT, 230VAC
Product code : KNO.KIT-D2-230
Kino Flo Diva-Lite 201 Kit, 230Vac

he 230VAC Diva-Lite 201 with Travel Case Kit from Kino Flo consists of a Diva-Lite 201 fixture, slip-on Flozier diffuser, and Clamshell Travel Case. This equipment, plus fluorescent lamps (sold separately) will get you started with a very efficient and versatile lighting setup great for on-location shooting and quick setup. The Kino Flo Diva-Lite 201 is especially designed to provide broad, smooth lighting with a built-in dimming ballast, barndoors and Center Mount. Remote dimming is also an option with the DIM-5 Remote Dimmer (sold separately), and either method can dim the lights from 100% output down to 5.0%. For more light control options, the included Flozier allows you to soften or spread the light out in various ways. It slips over the front of the fixture, providing a large area of white diffusion. To pack everything back up and store it, the Clamshell Travel Case is included and will store your fixture, lamps and a lightweight stand (lamps and stand not included). Even in the hands of an inexperienced lighting professional, the subject will likely end up very well-lit, with the Diva-Lite 201's soft, diffuse lighting. When combined with all of the other accessories and equipment in this kit you'll have everything you need to set up quick and efficient on-location lighting whether at home or abroad. Includes Diva-Lite 201 Fixture The Diva-Lite 201 light fixture provides a broad, soft light source great for photo or video work. Its compact size and rugged build make it well suited for travel, especially when paired with this kit's Travel Case. Kit Supports 2x 21" 55W CFL Lamps The included Diva-Lite 201 fixture, supporting two 21" Kino Flo True Match 55W compact fluorescent lamps, can optionally be swapped out with daylight or tungsten balanced lamps (sold separately). Built-In & Remote Dimming: 100-5.0% The Diva-Lite 201 features a built-in ballast and dimmer control that can decrease the amount of light from 100% down to 5.0%. It is not recommended that the dimmer be used to adjust exposure levels, however, because as the lamp cools the color may drift into the magenta spectrum. The optional Remote Dimmer DIM-5 (sold separately) provides tethered access to the light's output when you can't reach the onboard dimmer knob. Energy Efficient, Long Lamp Life The Diva-Lite is an efficient soft light, which is especially important when shooting on-location and power availability is an issue. All fluorescent lamps require some "burn in" time before they operate at their rated Kelvin temperature and brightness. For dimming products, the lamps perform best after 100 hours of operation. Due to portable nature of the Diva-Lites, the lamps can be damaged from handling and transport before "burning-out" so the included Lamp Case included in this kit will help them last. For Broad & Soft Fluorescent Lighting With its proprietary chemistry, the True Match lamps in a Kino Flo fixture display a unique quality of soft light. The smooth beam gradient responds especially well to the new generation of HD cameras on the set and works side by side with traditional tungsten sources without corrective filtration. Built-In Barndoors & Mount The Diva-Lite is most effective in close proximity to the subject because it puts out a broad soft wash of light, like the light off of a bounce card. By being close, the light is easier to control with the built-in barndoors and detachable louvers. The built-in Center Mount has a ball and socket design with a lock down handle that, when released allows you to reposition the fixture and lock it back down in place. At the other end of the Center Mount is a Baby Receiver (16mm) that can go directly onto a light stand, adding versatility to the way you mount your lights. Lamps At Full Color Temperature in 3 Min These lamps get to full color temperature in just three minutes. When you're finished with them simply turn off the power. With no need for a cool down period, you can pack up and move out faster, and work more efficiently. Maximizes Light & Minimizes Heat Heat management is an important design element of the design of these fixtures. The physical heat of the lamp directly influences color temperature, light output and lamp life. The lamps within these fixtures are correctly spaced to maximize light output and minimize heat. The reflector is vented in the back to increase airflow, while the ends are open to minimize heat build-up. And the power cord is oriented in such a way that the lamp tips will naturally be in a downward position when the fixture is operated vertically. Included Flozier & Clamshell Travel Case Whether you need to get technical or creative, use the included Flozier to perfect the amount and softness of light in your scene. The Clamshell Travel Case is well suited for transport by small vehicles or local production trucks, with space for the fixture, lamps and a lightweight stand.

If this product is listed as "in stock" you can rest assured that orders placed before 2pm EST will be dispatched same day, if ordered online.

If your product is on backorder, please contact us for an ETA.

Shipping is done via Startrack Express or Australia Post eParcel service and tracking advice will be provided once shipped. For more information, please visit our

Shipping Policy

.

Kino Flo Lighting Systems warrants the original purchaser that it's products under normal use, in accordance with normal operating instructions, will perform to the specifications published by Kino Flo at the time of purchase, for the following periods, from the date of purchase by the consumer. Ballasts - 2 years; Lighting Fixtures - 1 year; Lamps - 6 months of 2,000 hours, whichever comes first.

John Barry will happily exchange a product sold to you that does not match the description on our website, or if the product is not of an acceptable quality or condition for use.

John Barry reserves the right under Australian Consumer Law to refuse a request for an exchange or refund on all final sale items, if you have misused/mishandled the product, or if you have simply changed your mind. Please visit our Refunds & Returns policy page for further information.
You may also be interested in