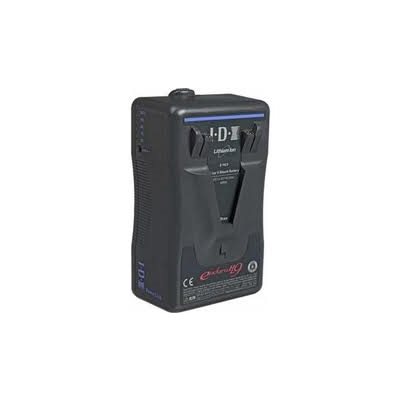 IDX E-HL9 ENDURA BATT 88WH POWERLINK
Product code : IDX.E-HL9
IDX E-Hl9 Endura Batt 88Wh Powerlink
88Wh Li-ion V-Mount High Load Battery with PowerLink & Digi-View
Exclusive to IDX, their PowerLink feature connects two E-HL9 batteries for a total power capacity of 176Wh. The 6-step 5 LED power status display gives an accurate reading of capacity in 20% increments plus the last 10%. The E-HL9 supports Digi-View for reading battery levels in many of today's camera viewfinders.
Battery Management System (BMS) can be used for enhanced diagnostics and a comprehensive review of the battery's history of use. E-HL9 Power Status is an accurate display of the E-HL9's remaining power. Visually and instantly indentified at any time or shown in the camera viewfinder via Digi-View.
Product Data
Capacity: 88Wh(14.4V/6.15Ah)Typical camera run-time: 3 hours approximately (@30W)Dimensions: 3.35(W)x5.51(H)x2.28(D) inchesWeight: 1.63 lbs approx With its high capacity and high load discharge of 10.0 Amps at 120W, the E-HL9 is an all-round top performer.
Battery Management Software
BMS-B7 is the new Battery Management System software.  IDX BMS has been supporting customers for years by monitoring and recording battery data over their life span, helping to educate users of the best possible conditions for use.   The beauty of BMS-B7 is that information can simply be recorded and retrieved via a USB connection from a VL-4Si or VAL-4Si charger to a PC.  
 • Easy to use and understand user interface
 • Compatible with IDX ELITE, E-HL9, E-10 and E-7 batteries
 • Supported by Windows Vista / Windows 7
 • Display data such as charge/discharge cycles, remaining capacity, operating temperatures etc.
 • Generate discharge curve analysis
 BMS-B7 is easy to install and features a simplified graphical user interface screen.
Please read carefully, if updating from previous BMS Versions
-Database feature is not available on BMS-B7.
-Data from previous BMS software is not transferable.
-Software is available by download from webpage only.
-If an older BMS and BMS-B7 are installed on the same PC, BMS-B7 will be
the default version and will open when you connect your IDX charger/
BMS-VR.
Please download the free BMS-B7 software and operation manual from the
following Link:  IDX BMS-7 Software Download
If this product is listed as "in stock" you can rest assured that orders placed before 2pm EST will be dispatched same day, if ordered online.
If your product is on backorder, please contact us for an ETA.
Shipping is done via Startrack Express or Australia Post eParcel service and tracking advice will be provided once shipped. For more information, please visit our
Shipping Policy
.
All IDX products are covered by the standard warranty terms, which covers all IDX products purchased since January 1st 2013. For the IDX Warranty to be valid, users must carefully follow the product operating instructions as per the supplied Instruction Manual. Any damage caused by customers through neglect or incorrect operation may result in the warranty being void. Please visit our
Warranty Information
page for more information.
John Barry will happily exchange a product sold to you that does not match the description on our website, or if the product is not of an acceptable quality or condition for use.
John Barry reserves the right under Australian Consumer Law to refuse a request for an exchange or refund on all final sale items, if you have misused/mishandled the product, or if you have simply changed your mind. Please visit our Refunds & Returns policy page for further information.
You may also be interested in