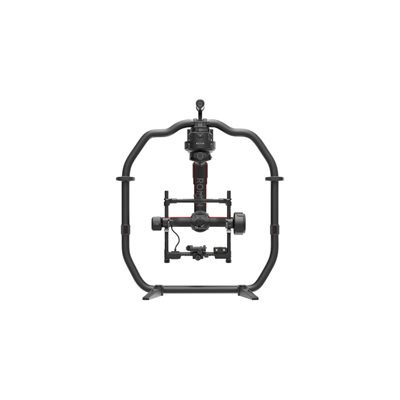 DJI Ronin 2 Professional Combo
Product code : DJI.RONIN2COMBO
The versatile Ronin 2 gimbal from DJI is suitable for use handheld, or mounted in a variety of ways, including to a drone, Steadicam, vehicle mount, and more. An update from the original Ronin, this motorized stabilization system is suitable for a range of camera and lens configurations, boasting a payload capacity of 30 pounds. This means it can be used for everything from DSLRs up to cinema cameras such as the Arri Alexa Mini and Sony FS7.
Like its predecessor, the Ronin 2 features support for Underslung, Upright, and Briefcase operation modes to help you achieve the best angle. However, it has been redesigned to enable easy transition between Upright and Underslung modes without changing the position of the camera. It also offers a number of other improvements, in particular, enhancements to the control software and physical design to simplify taking complex shots without sacrificing performance, all while making important functions more readily accessible.
Compatible Cameras
The Ronin 2 supports a range of cameras from DSLRs to cinema cameras, even with high-grade lenses and other accessories mounted. Compatible camera/lens configurations include:
 Red Dragon
Angenieux Optimo Anamorphic 6-152 A-2S
Arri Master Prime lenses up to 150mm
Arri Master Anamorphic lens
Canon CN7x17 KAS S 17-120mm T2.95
Arri Alexa Mini
Angenieux Optimo Anamorphic 56-152 A-2S
Arri Master Prime lenses up to 150mm
Arri Master Anamorphic lens
Canon CN7x17 KAS S 17-120mm T2.95
Blackmagic URSA Mini
Angenieux Optimo Anamorphic 56-152 A-2S
Arri Master Prime lenses up to 150mm
Fujinon ZK19-90mm T2.9
Canon CN7x17 KAS S 17-120mm T2.95
Canon C300
Canon CN7x17 KAS S 17-120mm T2.95
Canon CN-E Prime lenses
Canon EF lenses up to 400mm
Zeiss Compact Zoom lenses
Sony FS7
Sony CineAlta 4K lens series
E-mount lenses
Arri Ultra Prime lenses
A-mount lenses up to 300mm F/2.8G II
Ronin 2 Gimbal ×1
Ronin 2 Power Hub (w/ Camera Control Module) ×1
Camera Dovetail Plate ×1
Camera Top Cross Bar ×1
Remote Controller (w/ Neckstrap) ×1
TB50 Battery Mount ×1
Intelligent Battery (TB50) ×2
Battery Charger ×1
Battery Charger Power Cable ×1
Quad Charging Hub ×1
Grip (w/ Fold-away Feet and Top Mounting Block) ×1
Accessories Package (Screws & Hex Tool) ×1
Cables Package (Red Power Cable, Arri Alexa Mini Power Cable, CANBUS to 2-pin Power Cable, CANBUS to 5.5mm Power Cable, Triple P-tap Breakout Box, USB Type-C Data Cable, RED RCP Control Cable, Arri Alexa Mini Start/Stop Cable, SDI IN Cable, SDI OUT Cable, Remote Battery Mounting Cable, UART to D-BUS Cable, 1 each.) ×1
Quick Start Guide ×1
Monitor Mounting Bracket ×1
15mm Rod Mount ×1
15mm Rod ×2
Ronin 2 Universal Mount ×1
Water Tight Protective Case ×1
Ronin 2 MotionBlock ×1
Most versatile professional 3-axis stabilization system
Monocoque carbon fiber frame design
High torque motors supporting cameras up to 30 lbs
Fine tune balancing for precision control
Self-heating hot-swappable batteries
On-board power for camera and accessories
Integrated camera controls
Built-in GPS & compatible with DJI A3 Flight Controller
If your item is in stock, John Barry will pack and ship your order within 24 hours. If your product is in backorder, please contact us for an ETA. Shipping is done via Startrack Express or Australia Post eParcel service and tracking advice will be provided once shipped. For more information, please visit our
Shipping Policy
.
John Barry will happily exchange a product sold to you that does not match the description on our website, or if the product is not of an acceptable quality or condition for use.
John Barry reserves the right under Australian Consumer Law to refuse a request for an exchange or refund on all final sale items, if you have misused/mishandled the product, or if you have simply changed your mind. Please visit our Refunds & Returns policy page for further information.