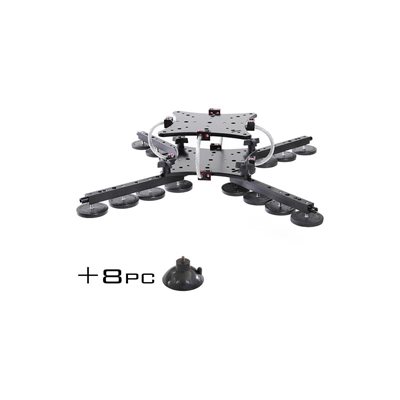 Press and move to zoom
Mouse over image to zoom
Cloud Mount - Full Size
Product code : RIG.CM-FS
UPC code :854821004675
Cloud Mount – Camera Vibration Isolator System

The RigWheels Cloud Mount camera vibration isolator system is the most versatile and customizable vibration isolation system for filmmaking available.

Building on our RigMount XL mounting platform, the Cloud Mount adds a vibration isolator to allow your handheld gimbal to work more effectively and with less strain on its motors and bearings. In the same way that Handheld Gimbal Stabilizers have drastically reduced the time required to achieve smooth dynamic camera movement, the Cloud Mount tremendously reduces the amount of time necessary and the complexity involved with mounting a vibration isolator system to a vehicle.

This is a all-in-one solution and usually requires no additional grip and rigging hardware. Other vibration isolator systems rely extensively on  third party rigging and hardware which drastically increases the cost of a working system (more than $500.00 for typical four point rigging). The Cloud Mount (when purchased complete with case) can be deployed to its standard configuration and ready for your gimbal in under one minute. With a small reconfiguration you can change to a 'hostess tray" or "underslung" position.

Our RigMount magnets are the key to the fast and easy setup of the Cloud Mount. 8 Magnets in the DSLR package provide up to 400lb of pulling force. That is a really large number but in real world conditions it is appropriate measure.

Our mid-size package includes 12 magnets (600b) and our pro package 16 magnets (800b).  The magnets are cased in rubber so they won't damage the surface you are mounting to. For some some surfaces suction is necessary and each option includes 8 of our standard suction cups and vacuum suction cups are available for the most demanding applications.

As with all RigWheels products, there are many different ways you can configure components depending on the shot you're trying to achieve. What makes the Cloud Mount markedly unique is the versatility of the parts and the degree of fine-tuning and customization possible. With our patent pending design you can build up the system to accommodate ANY gimbal/camera combination using standard cable "wire rope".

Standard cable requirement for a Ronin-M with DSLR is 4, 1/4? sections of cable. 8, 1/4? sections will support a standard Ronin with a mid to full-size camera. 16, 1/4? sections will support approximately 125 pounds. The vibration isolator of this system can use up to 24 sections of cable of up to 7/16? diameter. (we would love to see a photo of a setup that actually requires that capacity) Because you are able to "let in" or "let out" the cable, you can fine-tune the resistance necessary for your setup. You want vibration isolation loose enough to absorb all of the bumps and vibration but strong enough not to fail under the weight of the camera and gimbal. The Clould Mount gives you the ability to find that perfect balance of resistance, not only for the camera and gimbal but also for the terrain on which you will be operating.
If this product is listed as "in stock" you can rest assured that orders placed before 2pm EST will be dispatched same day, if ordered online.
If your product is on backorder, please contact us for an ETA.
Shipping is done via Startrack Express or Australia Post eParcel service and tracking advice will be provided once shipped. For more information, please visit our
Shipping Policy
.
John Barry Sales extends the warranty conditions as scheduled by the product manufacturer. The Warranty period starts from the date of invoice, and shall be effective until warranty period expires. Where not stated, John Barry Sales will provide 1-year (12 months) warranty for other equipment items, with exception of the following goods and services: Cables (custom made & stock) - 3 months. Audio & Video media - 3 months. Consumable items - 3 months. Should you have any questions regarding our equipment warranty conditions, please contact us.
John Barry will happily exchange a product sold to you that does not match the description on our website, or if the product is not of an acceptable quality or condition for use.
John Barry reserves the right under Australian Consumer Law to refuse a request for an exchange or refund on all final sale items, if you have misused/mishandled the product, or if you have simply changed your mind. Please visit our Refunds & Returns policy page for further information.